Exhibit 99.1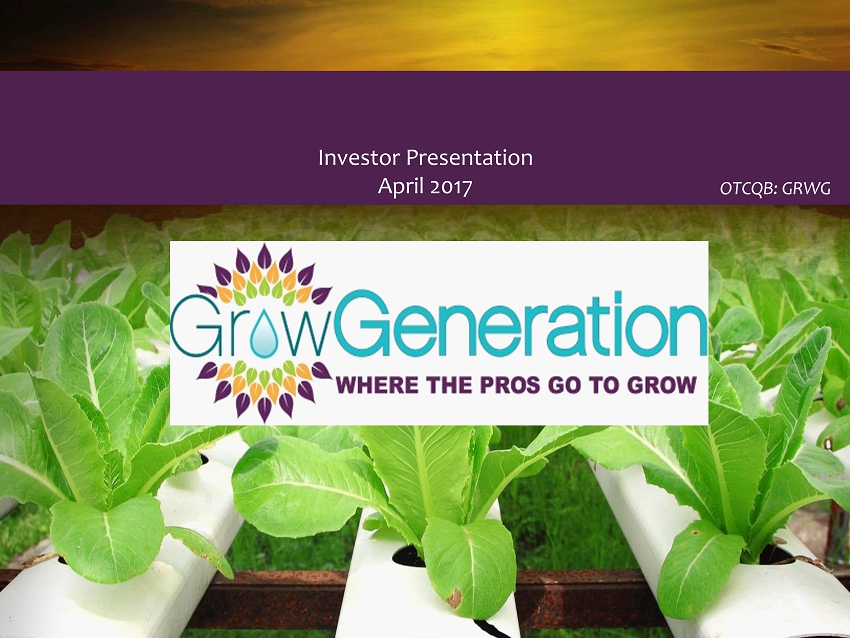 OTCQB: GRGW 1 Investor Presentation April 2017 OTCQB: GRWG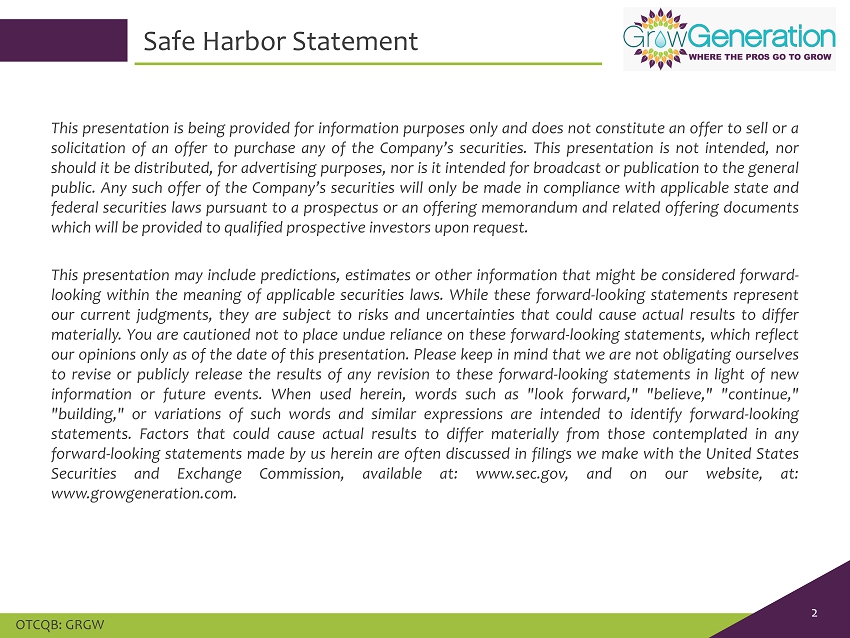 OTCQB: GRGW 2 Safe Harbor Statement This presentation is being provided for information purposes only and does not constitute an offer to sell or a solicitation of an offer to purchase any of the Company's securities . This presentation is not intended, nor should it be distributed, for advertising purposes, nor is it intended for broadcast or publication to the general public . Any such offer of the Company's securities will only be made in compliance with applicable state and federal securities laws pursuant to a prospectus or an offering memorandum and related offering documents which will be provided to qualified prospective investors upon request . This presentation may include predictions, estimates or other information that might be considered forward - looking within the meaning of applicable securities laws . While these forward - looking statements represent our current judgments, they are subject to risks and uncertainties that could cause actual results to differ materially . You are cautioned not to place undue reliance on these forward - looking statements, which reflect our opinions only as of the date of this presentation . Please keep in mind that we are not obligating ourselves to revise or publicly release the results of any revision to these forward - looking statements in light of new information or future events . When used herein, words such as "look forward," "believe," "continue," "building," or variations of such words and similar expressions are intended to identify forward - looking statements . Factors that could cause actual results to differ materially from those contemplated in any forward - looking statements made by us herein are often discussed in filings we make with the United States Securities and Exchange Commission, available at : www . sec . gov, and on our website, at : www . growgeneration . com .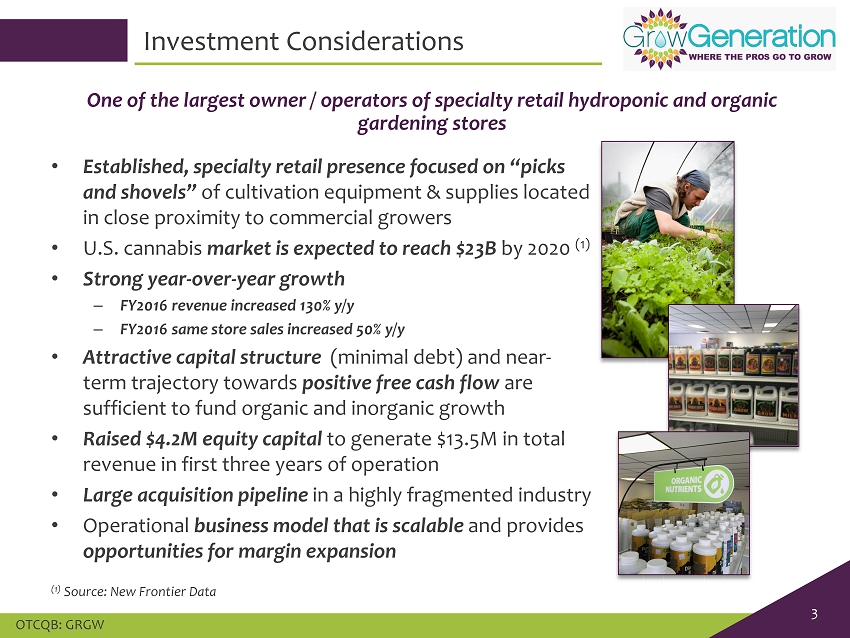 OTCQB: GRGW 3 Investment Considerations • Established, specialty retail presence focused on "picks and shovels" of cultivation equipment & supplies located in close proximity to commercial growers • U.S. cannabis market is expected to reach $23B by 2020 (1) • Strong year - over - year growth – FY2016 revenue increased 130% y/y – FY2016 same store sales increased 50% y/y • Attractive capital structure (minimal debt) and near - term trajectory towards positive free cash flow are sufficient to fund organic and inorganic growth • Raised $4.2M equity capital to generate $13.5M in total revenue in first three years of operation • Large acquisition pipeline in a highly fragmented industry • Operational business model that is scalable and provides opportunities for margin expansion One of the largest owner / operators of specialty retail hydroponic and organic gardening stores (1) Source: New Frontier Data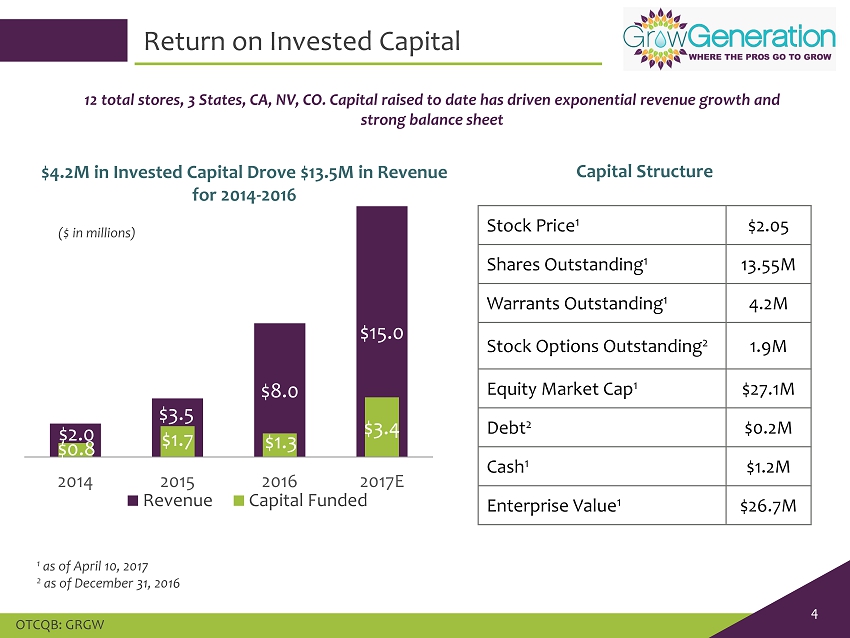 OTCQB: GRGW 4 Return on Invested Capital 12 total stores, 3 States, CA, NV, CO. Capital raised to date has driven exponential revenue growth and strong balance sheet Stock Price 1 $2.05 Shares Outstanding 1 13.55M Warrants Outstanding 1 4.2M Stock Options Outstanding 2 1.9M Equity Market Cap 1 $27.1M Debt 2 $0.2M Cash 1 $1.2M Enterprise Value 1 $26.7M 1 as of April 10, 2017 2 as of December 31, 2016 $2.0 $3.5 $8.0 $15.0 $0.8 $1.7 $1.3 $3.4 2014 2015 2016 2017E Revenue Capital Funded ($ in millions) $4.2M in Invested Capital Drove $13.5M in Revenue for 2014 - 2016 Capital Structure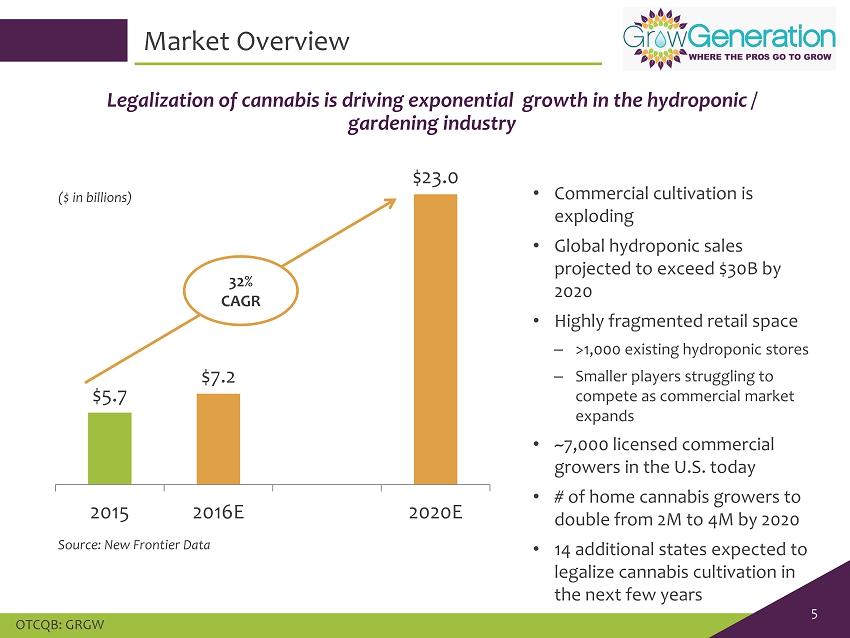 OTCQB: GRGW 5 Market Overview • Commercial cultivation is exploding • Global hydroponic sales projected to exceed $30B by 2020 • Highly fragmented retail space – >1,000 existing hydroponic stores – Smaller players struggling to compete as commercial market expands • ~7,000 licensed commercial growers in the U.S. today • # of home cannabis growers to double from 2M to 4M by 2020 • 14 additional states expected to legalize cannabis cultivation in the next few years Legalization of cannabis is driving exponential growth in the hydroponic / gardening industry $5.7 $7.2 $23.0 2015 2016E 2020E 32% CAGR ($ in billions) Source: New Frontier Data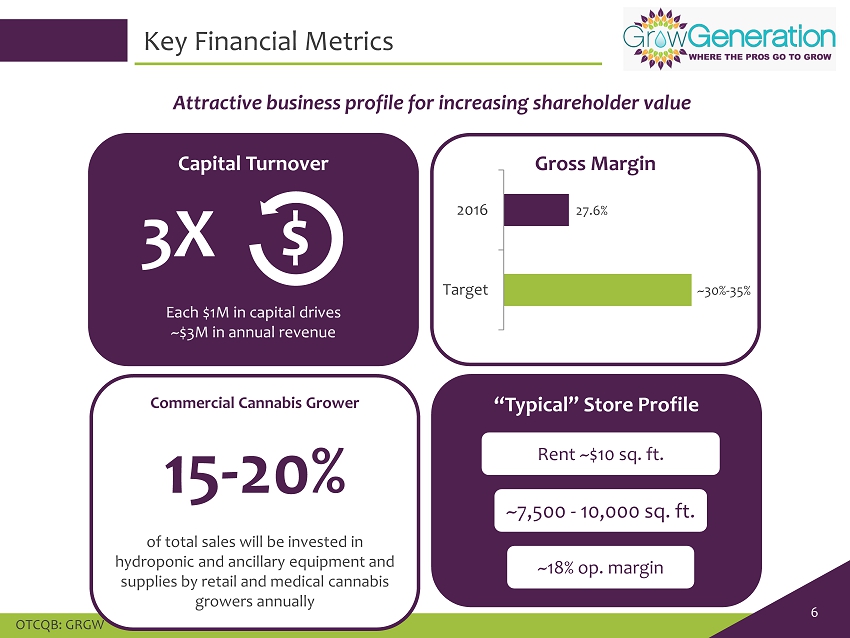 OTCQB: GRGW 6 Key Financial Metrics Attractive business profile for increasing shareholder value Gross Margin ~30% - 35% 27.6% Target 2016 Capital Turnover 3X $ Each $1M in capital drives ~$3M in annual revenue Commercial Cannabis Grower 15 - 20% of total sales will be invested in hydroponic and ancillary equipment and supplies by retail and medical cannabis growers annually "Typical" Store Profile ~7,500 - 10,000 sq. ft. ~18% op. margin Rent ~$10 sq. ft.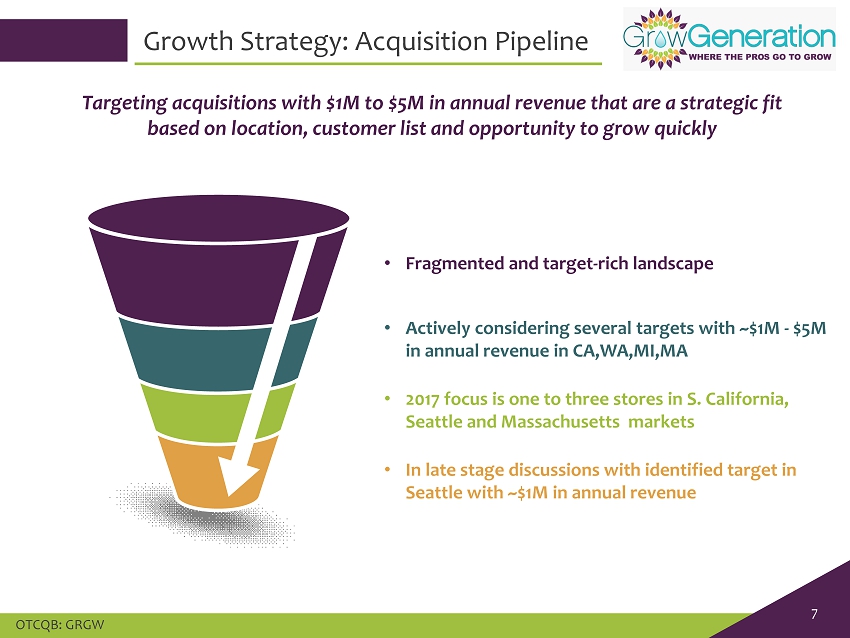 OTCQB: GRGW 7 Growth Strategy: Acquisition Pipeline Targeting acquisitions with $1M to $5M in annual revenue that are a strategic fit based on location, customer list and opportunity to grow quickly • Fragmented and target - rich landscape • Actively considering several targets with ~$1M - $5M in annual revenue in CA,WA,MI,MA • 2017 focus is one to three stores in S. California, Seattle and Massachusetts markets • In late stage discussions with identified target in Seattle with ~$1M in annual revenue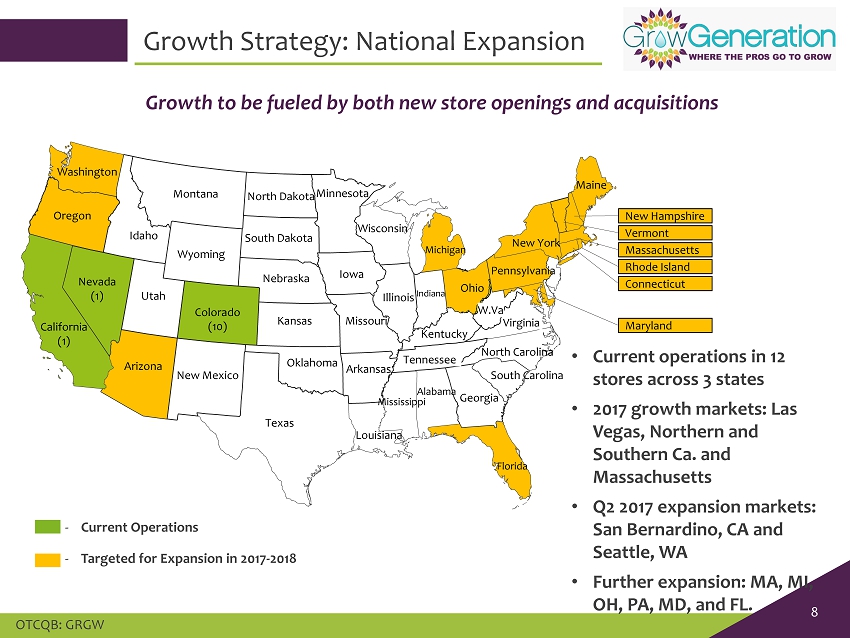 OTCQB: GRGW 8 Growth Strategy: National Expansion Growth to be fueled by both new store openings and acquisitions Alabama Arizona Arkansas California (1) Colorado (10) Florida Georgia Idaho Illinois Indiana Iowa Kansas Kentucky Louisiana Maine Massachusetts Michigan Minnesota Mississippi Missouri Montana Nebraska Nevada (1) New Hampshire New Mexico New York North Carolina North Dakota Ohio Oklahoma Oregon Pennsylvania South Carolina South Dakota Tennessee Texas Utah Vermont Virginia Washington W.Va Wisconsin Wyoming Connecticut Maryland Rhode Island • Current operations in 12 stores across 3 states • 2017 growth markets: Las Vegas, Northern and Southern Ca. and Massachusetts • Q2 2017 expansion markets: San Bernardino, CA and Seattle, WA • Further expansion: MA, MI, OH, PA, MD, and FL. - Current Operations - Targeted for Expansion in 2017 - 2018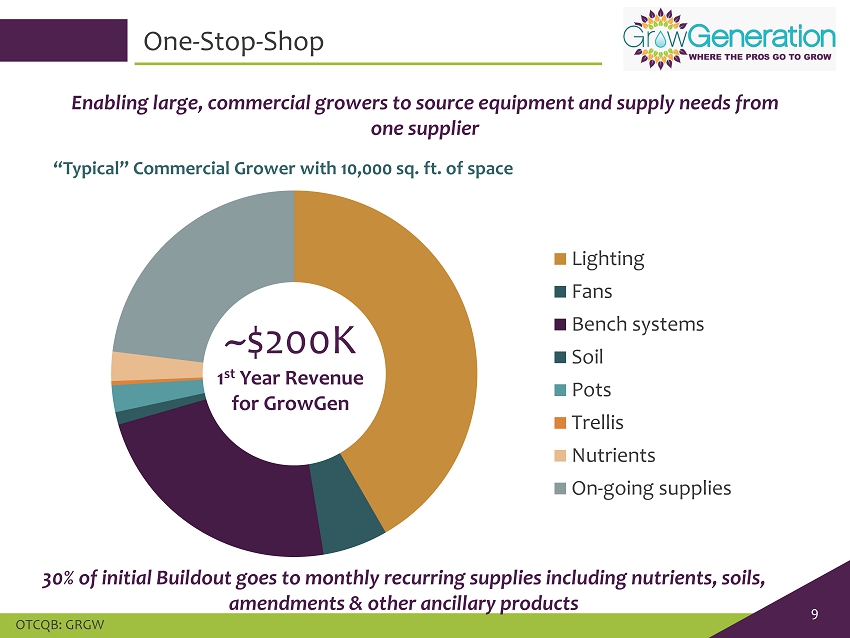 OTCQB: GRGW 9 One - Stop - Shop Enabling large, commercial growers to source equipment and supply needs from one supplier Lighting Fans Bench systems Soil Pots Trellis Nutrients On-going supplies ~$200K 1 st Year Revenue for GrowGen 30% of initial Buildout goes to monthly recurring supplies including nutrients, soils, amendments & other ancillary products "Typical" Commercial Grower with 10,000 sq. ft. of space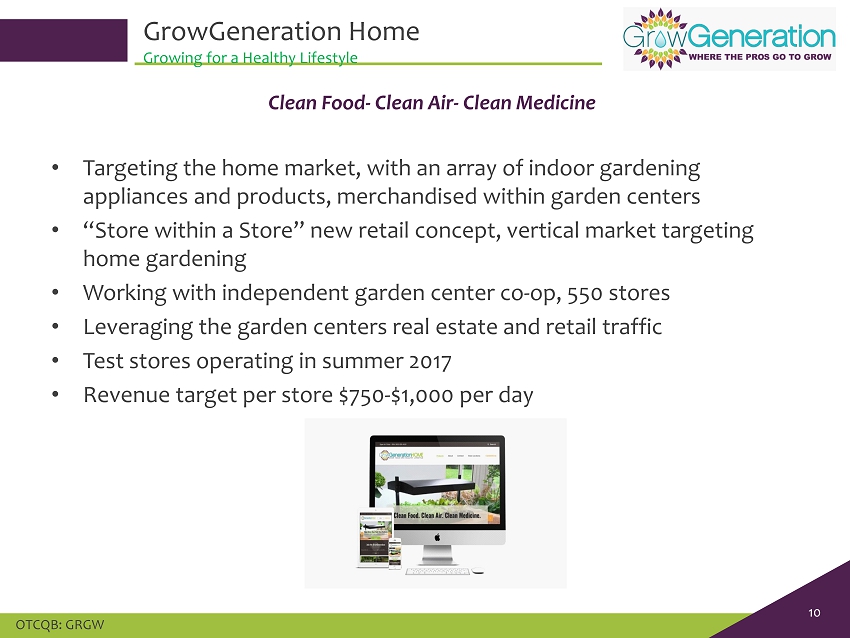 OTCQB: GRGW 10 GrowGeneration Home Growing for a Healthy Lifestyle Clean Food - Clean Air - Clean Medicine • Targeting the home market, with an array of indoor gardening appliances and products, merchandised within garden centers • "Store within a Store" new retail concept, vertical market targeting home gardening • Working with independent garden center co - op, 550 stores • Leveraging the garden centers real estate and retail traffic • Test stores operating in summer 2017 • Revenue target per store $750 - $1,000 per day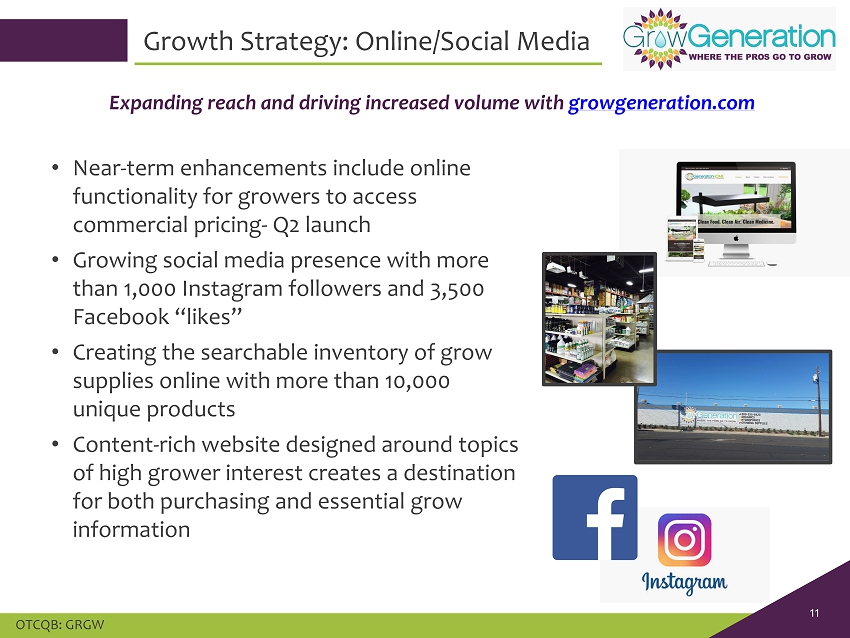 OTCQB: GRGW 11 Growth Strategy: Online/Social Media • Near - term enhancements include online functionality for growers to access commercial pricing - Q2 launch • Growing social media presence with more than 1,000 Instagram followers and 3,500 Facebook "likes" • Creating the searchable inventory of grow supplies online with more than 10,000 unique products • Content - rich website designed around topics of high grower interest creates a destination for both purchasing and essential grow information Expanding reach and driving increased volume with growgeneration.com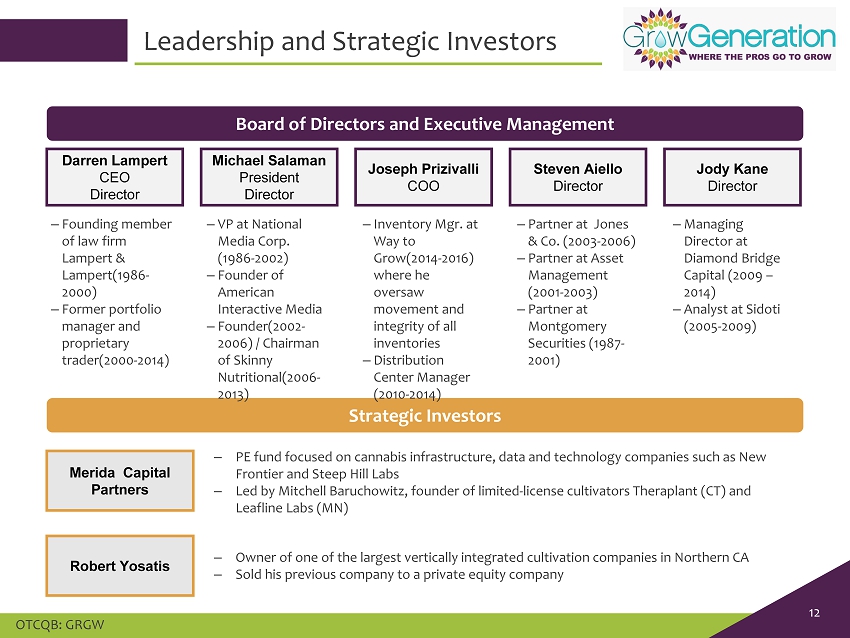 OTCQB: GRGW 12 Leadership and Strategic Investors Strategic Investors Board of Directors and Executive Management Darren Lampert CEO Director Steven Aiello Director Jody Kane Director Merida Capital Partners Robert Yosatis Michael Salaman President Director ‒ Founding member of law firm Lampert & Lampert(1986 - 2000) ‒ Former portfolio manager and proprietary trader(2000 - 2014) ‒ VP at National Media Corp. (1986 - 2002) ‒ Founder of American Interactive Media ‒ Founder(2002 - 2006) / Chairman of Skinny Nutritional(2006 - 2013) ‒ Partner at Jones & Co. (2003 - 2006) ‒ Partner at Asset Management (2001 - 2003) ‒ Partner at Montgomery Securities (1987 - 2001) ‒ Managing Director at Diamond Bridge Capital (2009 – 2014) ‒ Analyst at Sidoti (2005 - 2009) ‒ PE fund focused on cannabis infrastructure, data and technology companies such as New Frontier and Steep Hill Labs ‒ Led by Mitchell Baruchowitz, founder of limited - license cultivators Theraplant (CT) and Leafline Labs (MN) ‒ Owner of one of the largest vertically integrated cultivation companies in Northern CA ‒ Sold his previous company to a private equity company Joseph Prizivalli COO ‒ Inventory Mgr. at Way to Grow(2014 - 2016) where he oversaw movement and integrity of all inventories ‒ Distribution Center Manager (2010 - 2014)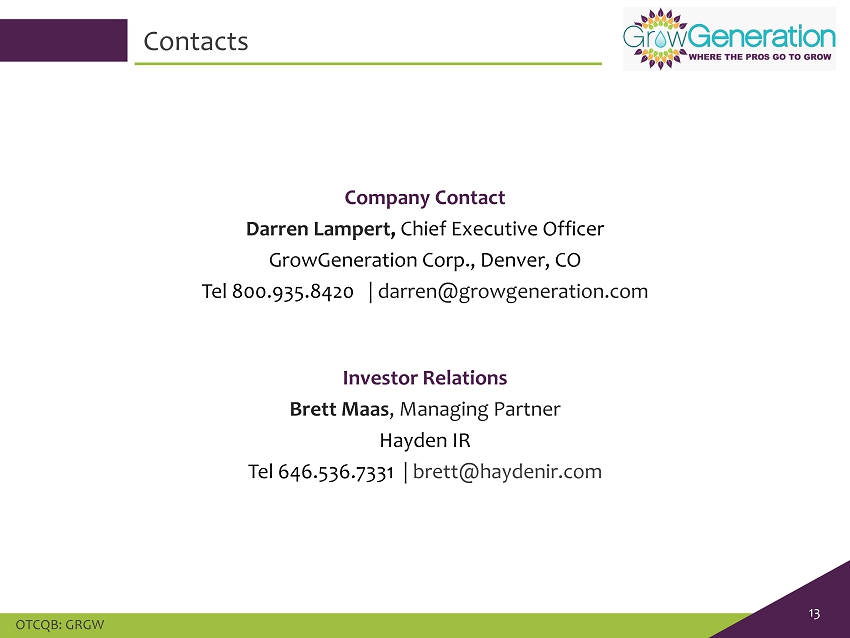 OTCQB: GRGW 13 Contacts Company Contact Darren Lampert , Chief Executive Officer GrowGeneration Corp., Denver, CO Tel 800.935.8420 | darren@growgeneration.com Investor Relations Brett Maas , Managing Partner Hayden IR Tel 646.536.7331 | brett@haydenir.com