Darren Lampert
CEO & Co-Founder
Mr. Lampert has been our Chief Executive Officer and a Director since our inception in 2014. Mr. Lampert began his career in 1986 as a founding member of the law firm of Lampert and Lampert (1986-1999), where he concentrated on securities litigation, NASD (now FINRA) compliance and arbitration and corporate finance matters. Mr. Lampert has represented clients in actions and investigations brought before government agencies and self-regulatory bodies. From 1999 to 2014, Mr. Lampert worked as a portfolio manager and proprietary trader at a number of broker-dealer firms. From 2010 to 2014, Mr. Lampert was a private investor. Mr. Lampert graduated in 1982 with a Bachelor of Science degree in business administration from Ithaca College. Mr. Lampert received a J.D. from Bridgeport University School of Law in 1985. Mr. Lampert was admitted to practice law in New York in 1986 and is also admitted to practice before the United States District Courts for the Southern and Eastern Districts of New York.
Michael Salaman
President & Co-Founder
Mr. Salaman has been our President and a Director since our inception. Mr. Salaman served as the Chairperson of Skinny Nutritional Corp. from 2002 to 2014 and as Chief Executive Officer and President of Skinny Nutritional Corp. from 2010 to 2014. Mr. Salaman has over 20 years' experience in the area of start-ups, new product development, distribution and marketing. Mr. Salaman began his business career as Vice President of Business Development for National Media Corp., an infomercial marketing company in the United States, from 1985 to 1993. From 1993 to 1995, Mr. Salaman worked as a consultant. From 1995 to 2001, Mr. Salaman started a digital media company called American Interactive Media, Inc., a developer of Web TV set-top boxes and ISP services. In 2002, Mr. Salaman became the principal officer of that entity, directing its operations as a marketing and distribution company, and in 2005 focused its efforts in the enhanced water business. Mr. Salaman received a Bachelor of Business Administration degree in business from Temple University in 1986.
Greg Sanders
Chief Financial Officer
Mr. Sanders has served as Vice President and Corporate Controller at GrowGen for nearly five years. He came to GrowGen with prior public company experience, having served in various accounting positions for Enterprise Holdings and Arrow Electronics. He also led the Finance and Accounting Department, as well as Administrative and Human Resources functions, for Machol & Johannes LLC. Mr. Sanders holds a B.S. in Accounting from the University of Minnesota.
Stephen Kozey
General Counsel
Mr. Kozey' s experience includes mergers and acquisitions, corporate finance, securities, commercial contracts, real estate, employment and corporate governance, among other areas. Prior to joining GrowGen, Mr. Kozey worked at Bryan Cave Leighton Paisner LLP in Denver, Colorado, and Debevoise & Plimpton LLP in New York, New York, where his practice focused on representing private and public companies, founders, management teams and other stakeholders in various types of corporate and commercial transactions. Mr. Kozey holds a J.D. from Georgetown University Law Center and a B.A. from Vassar College.
Bob Nardelli
Senior Strategic Advisor
Mr. Nardelli has been a Senior Strategic Advisor to GrowGeneration since 2019. He is the Founder and Chief Executive Officer of XLR-8 LLC, an investment and consulting company, which he formed in 2012. He is also a Senior Operating Partner to Core Industrial Partners, a Chicago-based private equity firm. Mr. Nardelli was a Senior Advisor, CEO of Cerberus Operations & Advisory Company, LLC from 2007 to 2015. Prior to that, he served as Chairman and Chief Executive Officer and as a member of the Board of Managers of Chrysler, LLC, 2007 to 2009. From 2000 to 2007, Mr. Nardelli served as Chairman, President and CEO of The Home Depot. He began his career at GE in 1971 and held several executive positions throughout his tenure. Currently, Mr. Nardelli serves as a Board Director of BWXT Technologies, Inc and Fathom Digital Manufacturing; he also serves on the Board of Trustees of the Savannah College of Art and Design.
Son Nguyen
Chief Information Officer
Son has served as the Chief Information Officer at GrowGeneration since 2018. During his time with GrowGeneration he has built the IT infrastructure, setup the IT acquisition strategy, and manages the technology advancement projects. His experience and background are focused on IT strategy for multistate operations, systems acquisitions, IT startup implementation, and software development. Son's previous experience includes long term positions with Machol & Johannes, LLC and Hitachi Software Global Technology, Ltd.
Rebecca Haluska
Senior Vice President of Purchasing
Rebecca Haluska grew up in Western New York, but moved to California in her early 20's. She started her purchasing career at a small furniture company in the Bay Area, where she stayed for 10 years, then moved on to WIlliams-Sonoma Corp, in the Pottery Barn division, and worked in Inventory Management / Purchasing from 2007-2015. Rebecca decided to keep in the inventory management / purchasing world but shifted into the hydroponics industry and took a job with Sunlight Supply from 2015 – early 2018, then found herself jobless after the industry took a hit in late 2017 and was laid off from Sunlight Supply in early 2018. That is when GrowGeneration found her through a headhunter, and she joined the team in 2018. Rebecca started out at GrowGeneration as a Vendor Relations Manager, but Michael and Darren let her take over the purchasing world shortly after, where she has worked her way up to SVP of Purchasing in the last 4+ years... all while solely managing her two hilarious, sweet, and crazy boys, ages 6 and 10.
Keith Harrington
SVP of Business Development
Keith has successfully built seven companies over his 30-year business career. His industrial background is in lighting and manufacturing which he has been doing in one form or another for his entire career. He is a long-standing figure in the horticultural/hydroponics industry and was the owner of Diamond Garden Supplies, one of the original two distribution companies in the Hydroponics industry. He was also one of the founders of Sentinel controls within the hydroponic industry.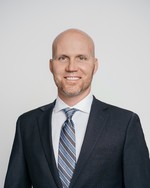 Clifton Tomasini
VP of Operations
Clifton Tomasini began his career in the horticulture/hydroponics industry in 2011 building one of the industry's signature HVAC-D brands in Quest from the ground floor. From his first day in the industry, he strove to understand the needs of growers across every unique market and later published many of the industries' first papers on how to properly size and utilize dehumidification and cooling systems whether decoupled or all-in-one. Prior to building Quest he led Supply Chain Operations for Therma-Stor LLC in Madison, WI for nearly a decade.
Clifton has an MBA from the University of Wisconsin – Madison and a BBA from Northwood University where he majored in Management and Automotive Retail respectively. In his spare time, he likes to spend time with friends and family and believes that the future of the hydroponics space is to feed the world with locally grown, pesticide free, nutritious produce. He holds multiple product patents in the horticulture/hydroponics market.